We are a vibrant Consultancy offering a wide range of programs, experiences and activities aimed at developing confidence, respect and self esteem
The past, present, and the future
Service
People
Positive interactions and relationships
Teamwork
The diversity of the wide range of cultures and heritage in Australia
Personal responsibility and accountability
All programs we offer aim to provide exceptional support and quality service from start to finish, underpinned by the rights of all to:
Be treated with fairness, respect and dignity
Live, work, learn and play in a safe, supportive, inclusive environment
We are committed to enhancing all facets of personal well-being and the development of character. We do this through the provision of site-specific:
Incursion Programs
Camps
Tertiary Orientation Experiences
Excursion Programs
Professional Development
Tertiary Ambassador Leadership
Leadership Programs
Workshops
Corporate Team Building Experiences
Damon Joseph
Director and Owner
Damon founded Character Builders in 2007 and works across a number of different settings including schools, universities and corporate organisations. He has extensive experience in student learning, team building, staff development and leadership training. Damon has a passion for education and team building done differently. He engages his audience so that they feel immersed and in ownership of the content. Damon is a HPE and Accounting teacher by trade and now enjoys bringing a variety of different offerings back to schools and bigger kids in the workplace too. He has previously worked as a Lecturer and Tutor at QUT Kelvin Grove.
Clare Joseph
Operations Manager
Clare's background is in legal services having worked both in the UK and Australia for a host of highly regarded firms. She is passionate about building character in youth with particular focus on positive mindsets, leadership and encouraging each person to be the best they can be. Clare oversees the main operations at Character Builders and has been with the business since 2014 during which time she has developed extensive client relationships in schools and corporate organisations.
Niamh Mahon
Facilitator
Niamh has been a facilitator with Character Builders since 2022. She thoroughly enjoys using her skillset to create safe spaces for students and corporate groups to connect and better understand one another. She has previously worked as an Exercise Scientist, guiding her clients towards their health and fitness goals. She now hopes to blend her experience of working with a range of people to facilitate stronger connections, greater perspective and encourage intentionality with every group she works with.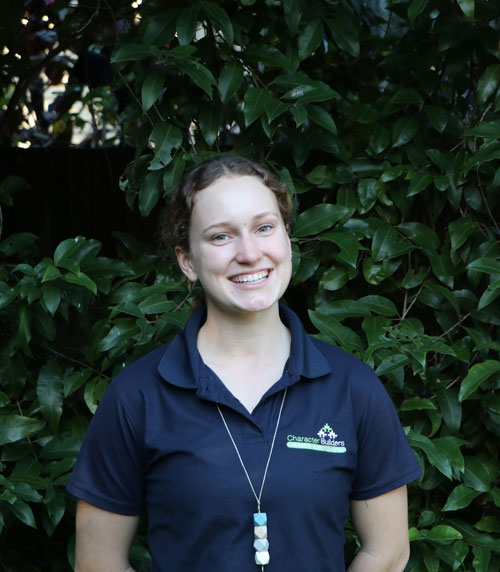 Lucy Banister
Lead Facilitator
Lucy has been a part of the team at Character Builders since 2019. Growing up, she found herself learning about leadership and teamwork through sports like athletics, hockey, and touch football as well as coaching and mentoring others. Lucy enjoys challenging herself in every aspect of her life and sees every day and every person as a new opportunity with so much value to offer. Her passion is helping others foster stronger connections and learn from their challenges to become better.
Georgia Morel
Executive Assistant
Georgia joined Character Builders in early 2021 and works closely with our Director, Damon, to manage new projects and business commitments. She ensures a smooth running of the office, including developing and implementing new processes and procedures. Georgia enjoys using her 15+ years of customer service and business experience to stay connected with our clients throughout the booking process. Georgia embraces the Character Builder's core values and enjoys fostering stronger connections and a positive work environment for all of our staff; an area she is truly passionate about.
Sarra Dreha
Client Engagement Officer
Sarra has been with Character Builders and is our wonderful Client Engagement Officer. She ensures clients have a smooth process from when they first enquire to securing their booking. Sarra is passionate about understanding her clients needs and how our programs can best align with their objectives. In her spare time, Sarra loves watching movies and playing the piano.